Gorgeous Glamping and Boutique Beach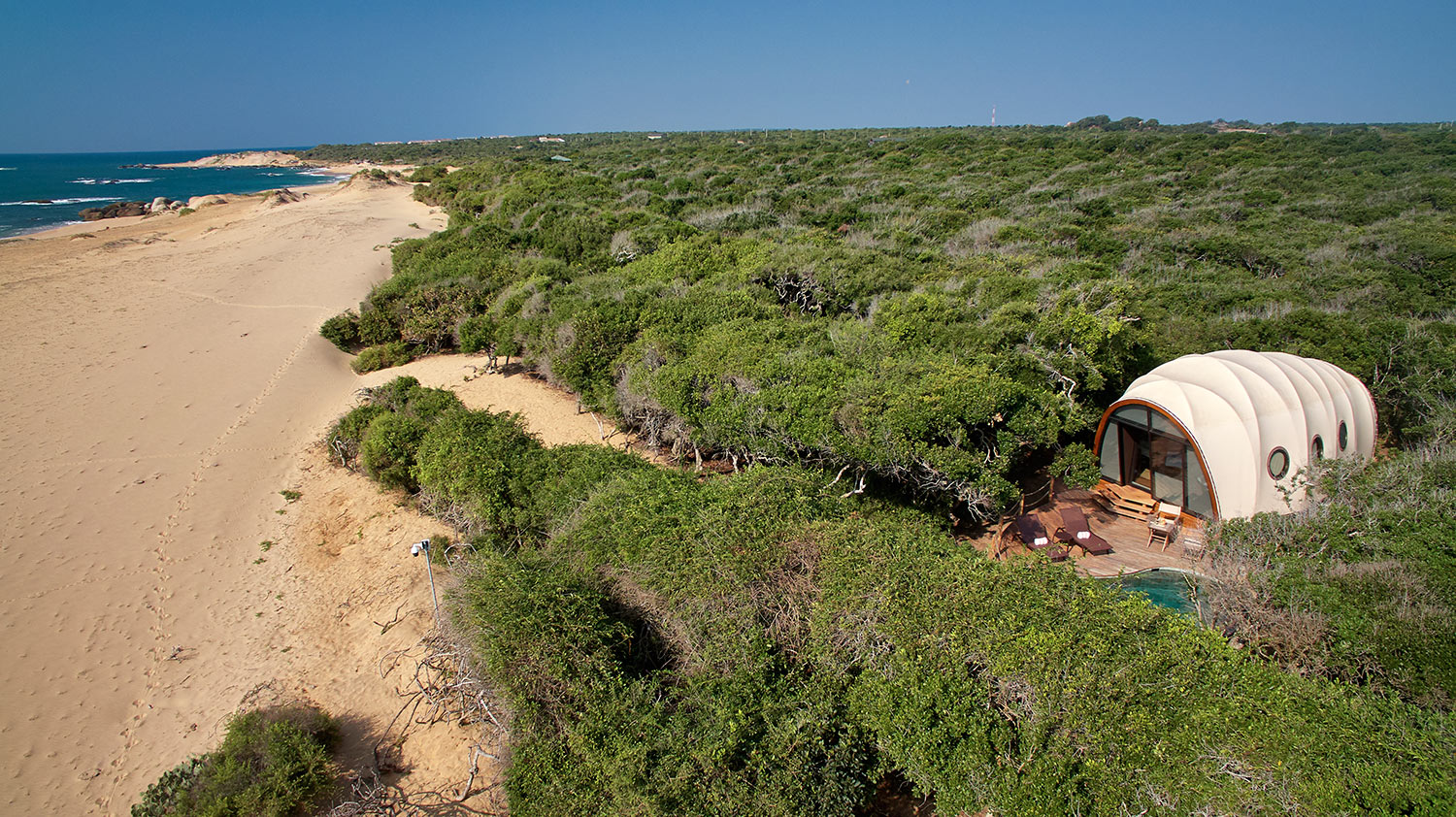 Founders Notes…
"An unchartered route from the South to the East of the island for those who love to stretch their budgets for some luxury, rarely visited landscapes, warm weather indulgence and an exciting dose of adventure! We personally love this unusual route to the east, starting from the eclectic Dutch Fort in Galle to a beautiful all-suite glamping site in Balangoda with its star beds and bushwalks before reaching your ultimate wildlife stay inside the remote Kumana (Yala East) wildlife park - our favourite wildlife escape! You will be spoilt on safaris reminiscent of days gone by at the private low carbon-footprint campsite set up only for you. At the end of it all, indulge in boutique luxury by the soft sands of the blue Indian ocean. Need we say more!"
Chamintha & Rajindra, Founders & Chief Explorers
Itinerary at a glance
Days 1 and 2: Galle - the beach and the Dutch Fort
Days 3 and 4: Star beds and Bushwalks in Balangoda
Days 5 and 6: Private mobile camping in Kumana National Park
Days 7 and 8: Arugam Bay Beach
Days 9, 10, 11, 12 and 13: Sunshine by the Pasikuda beach
- Duration: 14 days or tailor-made
Privately Guided

Private driver and local guides are included throughout.
Pricing

All trips are tailor-made and private, based on individual client needs and are priced accordingly.
TRAVEL TIPS
We recommend this itinerary for travel between April - September but we can certainly customize glamping near Yala National Park and stylish boutique beach stays in the southern coast for Christmas time travel and up to March. A domestic flight from the East coast is recommended at the end of the stay for an overnight in Negombo or Colombo prior to departure.
"As we go through all our photos and reflect on all our experiences, we cannot agree on any one highlight as it was all so incredible."
Margaret Tole, UK
What you can experience on this tour:
Culture
A privately guided tour with a resident of Galle navigating through the fort's charming alleyways with insights on the fascinating blend of local design traditions and the living heritage of this World Heritage Site. Summit the Kudimbigala Rock and explore the meditation caves of this ancient forest monastery dating back to the 3rd century BC with its breath-taking views from the summit.
Wildlife
Privacy is the luxury in the eco-conscious, low carbon-footprint tented campsite set up exclusively for you inside Kumana National Park – a famous RAMSAR Site and one of the most secluded of all National Parks in Sri Lanka. It is home to Leopard, Sloth Bear, Crocodiles, Deer, Jackal, Elephants and hundreds of birds. Enjoy waking up in the heart of the wilderness in semi-luxury South African tents equipped with comfortable beds, with separate tents for chemical flush camping toilets and showers. Experience unforgettable moments on unlimited privately guided safari drives where an experienced Ayu in the Wild guide will give insights into ecology and animal behaviour and dining under the stars with the campsite lit up with lamps. With a service team to spoil you and delicious freshly prepared meals in true bushcamp style, this is one of our favourite wildlife stays. When you leave, the camp leaves with you.
Bushwalks and Star beds
This luxury all-suite all-inclusive tented glamping site is full of magical surprises. There is no motorable road and a 20-minute trek leads you to your campsite. Pack a light day bag for your two-night stay which porters will carry for you. Be spoilt as you luxuriate in one of just 3 tented suites each with 1000 sqm of private grasslands, spacious and beautifully furnished en-suite tents with hot and cold water, exciting bush bathtubs overlooking the wilderness and unique star beds for star gazing or a mid-day slumber. Exciting adventures include bushwalks in the remote wilderness where you reconnect with nature with a professional Naturalist and search for birds and the herd of wild elephants that frequent the surrounds of the property, and nocturnal wildlife viewing at the" Hide" near the waterhole.
Beach
The east coast beaches are a treat. You will first explore Arugam Bay – the island's best surfing point where you could even take a surfing lesson at Pottuvil Point which is perfect for novice surfers. Then it's a beautiful coastal drive to the spectacular Pasikuda beach with great dining, luxurious pools, snorkeling or cruise on a yacht or lazing about the vast, uncrowded beach. Be sure to watch a stunning east coast sunrise one morning. For glamorous holidays between December to March, you will explore the southern coast with boutique indulgence in stylish villas or resorts.
Wow Moments
If you need to spice up an already wow itinerary that includes glamping, star beds, bushwalks to search for elephants and private tented camping, we can certainly add on more excitement with a guided rice-paddy trek, a lovely walk through a local east coast village market, or even book you a signature dining experience on the beach.
Stylish Accommodation that works well with this itinerary:
Ambalama, Villa 46, The Frangipani Tree, Taru Villas, Kumu Beach, KK Beach, Point SUD, The Last House, Sri Sharavi Beach Villas, The Sandals, Aditya, Era Beach, Ahaspokuna, Kottukal Beach House, Uga Bay, Jetwing Surf and Maalu Maalu Resort are lovely stays on this unchartered route. For indulgence between December to March, we love itineraries spiced up with Wild Coast Tented Lodge, Amanwella, Cape Weligama, Chena Huts by Uga Escapes and Dune Camp.
We work closely with a range of stylish properties across the island. All hotel and villa recommendations are independent of any affiliations and are based on the finer details of each, to make your holiday just right.
Ceylon Concierge by Ayu
With our personal contacts to Sri Lanka's top experts we make extraordinary, once-in-a-lifetime travel experiences possible. Be guided by a Palaeontologist and his insights on fossils locked in ancient sedimentary rocks, be awed by a conservationists' views of the evolutionary relationships of our wild species, see blue whales off the coasts in the company of a famed author on marine mammals or fly to the mountains for a magical evening with a Michelin starred chef, accompanied by Ceylon's acclaimed musicians.
We're always pushing boundaries to add on to our expanding collection of innovative and inspiring luxury travel experiences for our guests. Enquire with your interests. Pricing varies based on your requirements.
To start planning a Sri Lanka holiday with Ayu in the Wild, complete the contact form and we'll respond within 24-48 hours